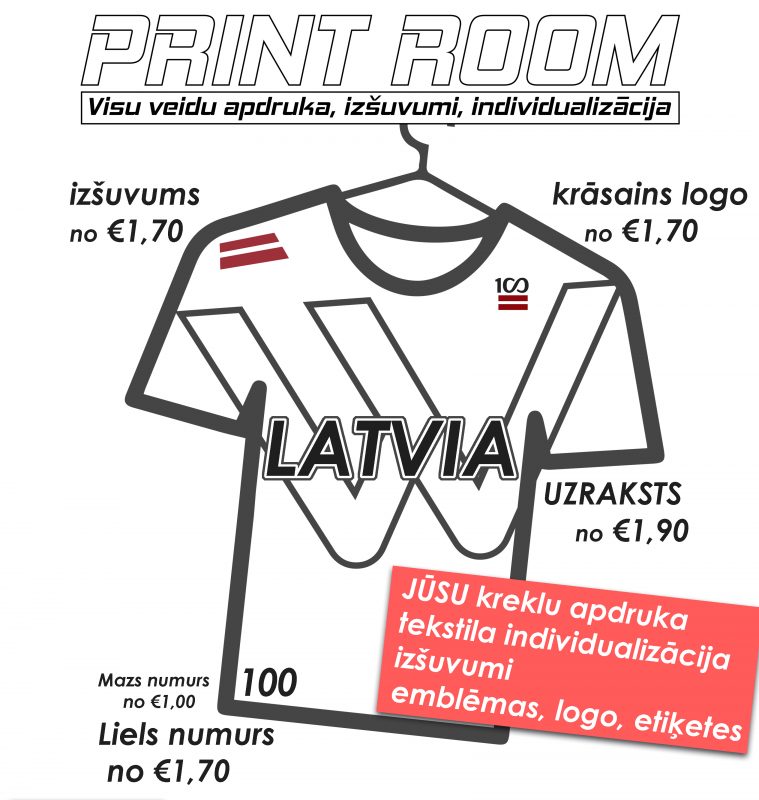 NĀC UN APDRUKĀ SAVU KREKLU
WIN WIN design piedāvā klientiem visu veidu tekstila apdrukas pakalpojumus, izšuvumus un individualizāciju. Veicam tekstila apdruku ar termoplēvēm, kas ir labākais risinājums 1- 3 krāsu pārnešanai uz tekstila. Druka tiek veidota, no speciālā materiāla izgriežot (ploterējot) elementus un ar karstuma presi tos piekausējot audumam. Augstās noturības dēļ termoplēvi izmanto sporta formu apdrukai. Pie mums ir iespējama individuālu uzrakstu, numuru un zīmējumu uzdruka pat vienā eksemplārā.
Ar tiešo krāsas pārnešanu, jeb transferdruku, uz krekla varam nodrošināt vairāku krāsu vai ļoti detalizēta logotipa/ attēla pārnešanu uz krekla. Veicam arī kvalitatīvus 2D vai 3D izšuvumus uz tekstila, cepurēm, somām, ziemas jakām utt.
Lai ilgāk saglabātu apdrukāto kreklu, rekomendējam mazgāt to ne vairāk kā 50 grādu temperatūrā.
TU esi laipni gaidīts ar savu kreklu un savām idejām, un mēs palīdzēsim TEV to realizēt!
CENAS  SĀKOT  AR  €1
(Vidējais apdrukas pasūtījuma izpildes laiks – 2 darba dienas)